DON'T RISK THE SAFETY OF YOUR EXPENSIVE MACHINERY AND EQUIPMENT

International Global Logistics has the necessary experience and expertise to take care of everything from the point of origin to destination and will ensure your investment arrives safely and on-time, every time.

ABOUT INTERNATIONAL GLOBAL LOGISTICS
The task of shipping heavy machinery and equipment can weigh heavy on your shoulders. There's a logistical supply chain to coordinate, varying international customs formalities and legal procedures, and transitions between different sea, road, rail and air modes of transport to consider. Then there's all the unknowns and unforeseen complications that may arise.
International Global Logistics has decades of experience delivering heavy machinery from destinations all around the world, as well as the expertise, connections and relationships to take the heavy burden of delivering your valuable assets entirely off your shoulders. International Global Logistics can project manage even the most complex consignments from start to end.
With a world-class service that is second-to-none, we pride ourselves on offering our customers the assurance that only experience can provide. More than anything else, it is a commitment to personalised service that sets International Global Logistics apart. Whether it's fielding a call in the middle of the night from a customs official in Kenya (so that you don't have to), or taking care to understand the particulars of your consignment, International Global Logistics has built its business and reputation with old-fashioned personal relationships and caring enough to go the extra mile.
Here at International Global Logistics, if things don't go quite as planned plan, we offer solutions, not problems!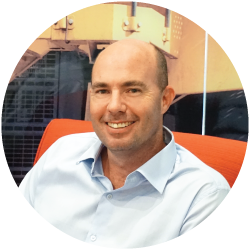 DEAN STERLING
Leading the team, Dean is not your average General Manager.
Dean began his career in a junior logistics role and worked his way up through the levels of management to become one of the industry's most well-known and respected leaders. Dean takes a hands-on and personalised approach to make sure that International Global Logistics' customers are always put first. He remains a main point of contact to ensure integrity, trust and responsibility are maintained for all customers.
Dean has worked in some of the most challenging business environments around the world, from the jungles of Papua New Guinea, to navigating the bureaucracy in the Middle East, South Africa and Asia.
Dean believes that actions speak louder than words, so as a testament to his personalised service commitment, you can call his mobile number on 0498 000 200 to talk with him directly about how International Global Logistics can help take the worry off your shoulders and deliver your machinery from wherever on Earth it is, to wherever it needs to go.
Dean Sterling joined the International Global Logistics team with a wealth of experience under his belt. For over 20 years Dean has been going above and beyond for his clients, meeting challenges and exceeding expectations. Dean brings this expertise and agile mindset to provide a world-class level of service to all customers.
Welcome to the Papua New Guinean jungle.
We were tasked with moving a fleet of bulldozers from a remote location in the Papua New Guinea highlands, through jungles, ports and red tape to a customer in Brisbane, Australia.
With dilapidated bridges and decaying road infrastructure, the decision was made to disassemble the fleet before transportation to ensure safety. The challenge was that organising such an operation in a very remote area, with a lack of available resources and labour, was difficult to say the least.
However, it was a challenge that we were up to meeting. Labour, electricity, and resources were promptly organised and the machines were efficiently disassembled and loaded for transportation through the remote jungle.
We worked with native tribes to negotiate the passage of the machines through their lands and the convoy arrived safely at port, but the challenges didn't stop there.
The machinery had to meet Australian quarantine cleanliness standards before being reassembled and loaded onto the ship, so we had to organise labour, electricity and clean water at an under-resourced port in remote PNG.
The fleet of fully assembled bulldozers arrived safely in Brisbane, passed quarantine and were delivered on-time and on-budget to another very happy customer.
A story of sun and ice (and 340 tonnes of cargo).
We were asked to move seventeen 20T dump truck trays from sunny Brisbane to Savage River in remote Tasmania.
The trays were custom-manufactured by an Australian company in Brisbane, but such was the size of the load that we had to organise an in land diversion to avoid bridge height and road restrictions in the metropolitan area.
The trays were loaded and positioned into a charter vessel by ships cranes and safety stowed. On arrival to Tasmania they were transferred onto a convoy of seventeen low loader floats with dimensions of 12m x 9m x 6m. The convoy needed to travel at a careful 40km per hour for more than ten hours along remote and icy roads in the middle of winter to reach their destination at the Savage River Mine Site.
We worked with National Parks and Wildlife as the convoy had to move between two national parks in a world heritage-listed area. The utmost care was taken to ensure that no footprint was left on the environment during the transfer.
The convoy arrived on-time to deliver all 340 tonnes of cargo safely to its destination.
Slashing through intercontinental red tape.
We needed to deliver 30 Catapillar 777D Dump Trucks from a mine in central Chile, to a customer in Townsville, North Queensland.
Chile is renowned for its stringent controls and extensive red tape, so we anticipated and understood the export formalities and paperwork ahead of time to ensure a smooth and efficient transfer process.
After transporting the machinery from central Chile to port on the Pacific Ocean, the notoriously difficult customs process was made simple and easy with  foresight.
Not to be out-done, Australia's own customs and quarantine process is also particularly stringent given the isolated nature of the ecosystem. We worked between both sets of government organisations to make sure all the necessary requirements were met and exceeded.
After 16 days of direct sailing across the largest mass of water in the world, the machines were unloaded and delivered in Townsville earlier than scheduled.
I have worked extensively with Dean Sterling over the past 11 years on many large projects. I have always found Dean's professionalism and efficiency to be second to none. Dean had always been a lateral thinker and often has come up with ingenious ideas when we have been dealing with large tricky packages of mining equipment. Dean is always a pleasure to work with and I highly recommend him for all your shipping and logistical needs, no mater how big or small.
Justin Reeves
I have had many dealings with Dean over the past 15 years for our freight forwarding requirements.
He has proven himself to be a professional, highly motivated person that gets the job done. No matter how complicated the shift I require is, it is completed with little fuss and bother.
Leigh Donald
Follow Us

International Global Logistics (IGL) is part of the National Group of companies. Follow us on social media to keep up to date with the latest news from the National Group.

        
FILL IN YOUR DETAILS BELOW TO RECEIVE A QUOTE
OR CALL US ON 1300 195 480 OR 0498 000 200.